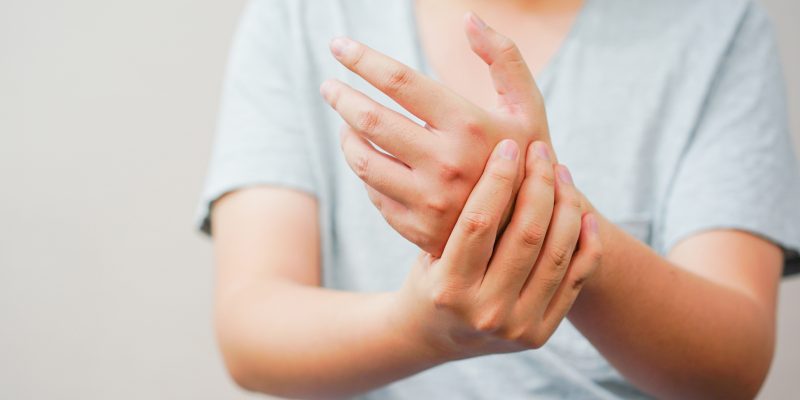 Physiotherapy
What is it?
Carpel Tunnel Syndrome (CTS) is a condition, often common in pregnancy, described as a tingling sensation, numbness and sometimes pain in the fingers or hand.
It is caused by the median nerve being squashed or compressed by the carpel ligament, as it passes through the narrow passage in the wrist (otherwise known as the carpel tunnel).
The symptoms?
The symptoms are often worse in the dominant hand and especially in the thumb, index and middle fingers (which are supplied by the median nerve).
The symptoms are described as a tingling sensation, ache or numbness in the fingers or the whole hand. Symptoms are usually worse at night and may disturb your sleep or notice it first thing in the morning.
Some relief may be found by waving or shaking your hand in the air or out of the bed.
Other symptoms may include swollen, stiff fingers and it is important to keep the fingers moving. You may also notice difficulty with fiddly tasks such as fastening buttons or feel that your grip strength is weaker, so be careful lifting hot drinks or pots and pans.
The causes in pregnancy
CTS is common in pregnancy, especially the second and third trimester, due to hormonal changes and a build-up of fluid in the tissues in the carpel tunnel of the wrist. This fluid in turn compresses the median nerve and causes the tingling and numbness.
Other causes may include underlying diabetes, arthritis or an under-active thyroid which in turn will affect fluid build-up in the wrist and carpel tunnel.
The median nerve may however be compressed near the nerve root at the neck, shoulder or even the top of the rib cage during pregnancy due to weight gain, enlarged breasts and poor posture.
Get fitted for a properly supportive, non-wired maternity bra to avoid any pressure on the median nerve.
Treatment
Diet
Eat a balanced diet with plenty of fruit and vegetables, drink lots of water and cut down on salt to avoid fluid build-up and healthy weight gain.
Posture
Avoid slouching, rounded shoulders, and a pokey chin.
Circulation and wrist stretches
Keep fingers, thumb and wrist, forearm moving every half hour. Stretch your wrist forward and back, applying a gentle pressure for 10 seconds, 3 times a day.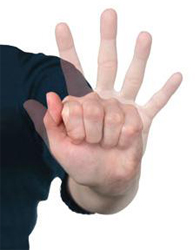 Strain
Avoid prolonged wrist positions for example; typing or holding objects, for example; phone.
Cold water or ice
Put your wrist under cold running water for 1 minute or apply a small ice pack for 5 minutes over your wrist.
Hot and cold contrast
Alternate between a bowl of hot water and cold water, holding your hand and wrist in each for 30 seconds, about 3 times each, to encourage blood flow to and from the area.
Massage
With your forearm elevated, massage from the palm of the hand towards the elbow, encouraging blood flow and fluid towards the heart for about 30 seconds, then apply small circular movements, in an outward motion to the base of the hand and wrist for 30 second each side.
Elevation and rest
Rest your hand and wrist in a neutral position, elevated on a pillow.
Splints
Supportive hand or wrist splints may be worn at night to keep a neutral position during the night and prevent excessive flexion or extension of the wrist.
Wear and care of your splint(s):
The supportive wrist splints are to be measured and fitted by a physiotherapist
The splint is to be worn overnight to maintain a neutral position of the wrist
Remove the splint if you experience any pressure areas or discomfort
If necessary, hand wash the splint in warm soapy water, removing the metal bar first, and allow to air dry before use
Postnatal advice
After the delivery of your baby, the symptoms of carpel tunnel syndrome should start to ease as your hormones balance out.
Still continue with the above advice and gentle exercises and be particularly careful to look after your posture whilst sitting feeding baby (cushions behind your back) and holding your baby (neutral wrists).
Contact us
Patient experience
South Tees Hospitals NHS Foundation Trust would like your feedback. If you wish to share your experience about your care and treatment or on behalf of a patient, please contact The Patient Experience Department who will advise you on how best to do this.

This service is based at The James Cook University Hospital but also covers the Friarage Hospital in Northallerton, our community hospitals and community health services.
To ensure we meet your communication needs please inform the Patient Experience Department of any special requirements, for example; braille or large print.

T: 01642 835964
E: [email protected]
The James Cook University Hospital, Marton Road, Middlesbrough, TS4 3BW.
Telephone: 01642 850850
STW0118
Version 1