You have sustained a dislocation of a joint in your finger
This has been put back in joint.

Your x-rays will be reviewed by a hand surgeon and you will be contacted if further treatment is needed.

Your fingers will be taped together for support. This can be discontinued after 10 days. After this you can begin to use the hand as normal.

It is important to move the finger to minimise stiffness.

Swelling is very common and may take several months to settle.

In a few cases the joint can become very stiff. In this case physiotherapy or surgery may be required.
Suggested exercises
Repeat these exercises 5-10 times each every 2 hours if possible.
For the first 2 weeks.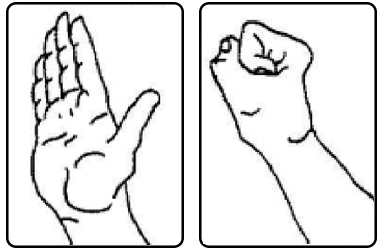 If the finger is stiff after 2 months; or you are concerned about your hand, contact the Hand Trauma clinic on: 07970 199841. Monday-Friday 9am to 5pm and voicemail
Patient experience
South Tees Hospitals NHS Foundation Trust would like your feedback. If you wish to share your experience about your care and treatment or on behalf of a patient, please contact The Patient Experience Department who will advise you on how best to do this.

This service is based at The James Cook University Hospital but also covers the Friarage Hospital in Northallerton, our community hospitals and community health services.
To ensure we meet your communication needs please inform the Patient Experience Department of any special requirements, for example; braille or large print.

T: 01642 835964
E: [email protected]
The James Cook University Hospital, Marton Road, Middlesbrough, TS4 3BW.
Telephone: 01642 850850
STPI0013