The Cervix Visual Assessment Guide (CVAG) is designed to assist primary care health professionals with the assessment and evaluation of the cervix.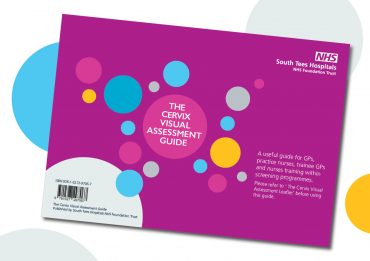 The CVAG is a visual educational tool developed by health professionals specialising in colposcopy and gynaecology.
In response to local trust audit results and regional colposcopy data they suggest some primary health workers' have little experience of recognising the signs and symptoms of invasive cancer of the cervix.
Subsequently, a significant number of women are referred to oncology and colposcopy clinics with suspected cancer of the cervix in the absence of disease.
The aims of the guide are:
to raise awareness of signs, symptoms and appearance of cervical cancer.
to demonstrate the wide range of normal cervical appearances.
to provide advice and referral guidance for the clinical management of women attending surgery with irregular vaginal bleeding within or out-with the cervical screening programme.
to increase the accuracy of referral for women with suspected invasive cervical lesions.
to improve the quality of care for women within and out-with the NHSCSP.
Orders are accepted from individuals or organisations.
Payment from individuals can be made by debit or credit card and delivery will be made once payment has been received.
Payment from organisations can be arranged via invoice.
For enquiries, please email [email protected]
Cervix Visual Assessment Guide pricing
| Number of guides | Price |
| --- | --- |
| 1 – 25 guides | £20 per guide |
| 26 – 199 guides | £17 per guide |
| 200 – 999 guides | £15 per guide |
| 1000+ guides | £12 per guide |
Payment preference
Invoice
Debit/credit card (details provided on receipt of order)
Cervix Visual Assessment Guide order form
Cervix Visual Assessment Guide order form for STRIVE innovation team.