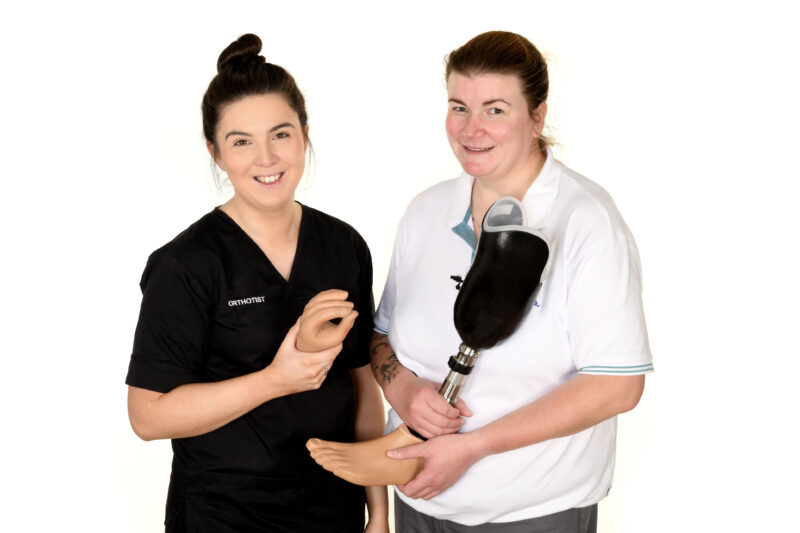 Orthotists are specifically trained to work with medical supportive devices, such as spinal or knee braces. Prosthetists are specifically trained to work with prostheses, such as artificial limbs and other body parts.
The orthotists and prosthetists work with people of all ages during their lifetime, this forms long-term professional relationships and job satisfaction.
Orthotist and prosthetists and have a dual degree but specialise in one profession once qualified.
Abby, senior orthotist 
Why did you want to be an orthotist?
To become an orthotist, I studied a BSc Hons Prosthetics and Orthotics, allowing me to graduate as a dual qualified clinician and either work within both fields or my preferred profession.
 From a young age, I was very passionate about sports and closely followed the olympics and paralympics. I was always intrigued by the devices the athletes donned to allow them to compete so effectively and effortlessly. This interest influenced my decision to select my university course and ultimately my career choice.
I had little orthotic awareness on starting my degree however, as time progressed and my knowledge grew, I realised how interesting and rewarding a career in orthotics was. The fast paced, hands-on, varied workload of an orthotist was very appealing to me, as the role combines both a clinical and technical skill set. I loved that I would be able to assess, prescribe and manufacture the devices provided to our patients, allowing me to follow their full treatment journey.
Day-to-day tasks?
Working as an orthotist, no day is the same. We see a large caseload of different patient groups who may present with neurological conditions, neuromuscular conditions, or biomechanical problems.
We assess the patient's presenting condition and aim to reduce pain, improve function or improve mobility by prescribing and supplying orthotic devices that support, stabilise or relieve pressure on the different joints of the body.
We work independently and as part of the larger allied health professional workforce, carrying out joint appointments and discussions to ensure our patients treatment is as detailed and effective as possible. 
As part of our normal day, we will carry out clinical appointments, telephone appointments, ward visits and domiciliary visits.
Most fulfilling part of the job?
The satisfaction I feel when a device I have prescribed and supplied has helped to improve a patient's pain, mobility or quality of life makes me enjoy coming to workday after day.
I am lucky to be in a job role that I love and never tire of. Working with my patients to work towards and achieve their set goals, really is so rewarding and reminds me how important my role is.
Kacie, prosthetist
Why did you want to be a prosthetist?
I had a keen interest in both biology and physics and wanted to work with people, so this was the ideal job.
Day to day tasks?
Fitting artificial limbs, adjusting sockets to improve fit and comfort, assessing patients and coming up with appropriate prescriptions for them.
Most fulfilling part of the job?
I love seeing a new patient walk on their prosthesis for the first time and knowing that what we do can make peoples' lives much easier and more fulfilling.
Prosthetist and orthotist video
Where can I study to be an orthotist or prosthetist?
You can also study to become an orthotist / prosthetist if you have an existing degree in a relevant subject by undertaking a 2-year, pre-registration master's degree at Keele University.
Alternatively, there is an apprenticeship route into the profession.
Work experience
Contact us
Useful links